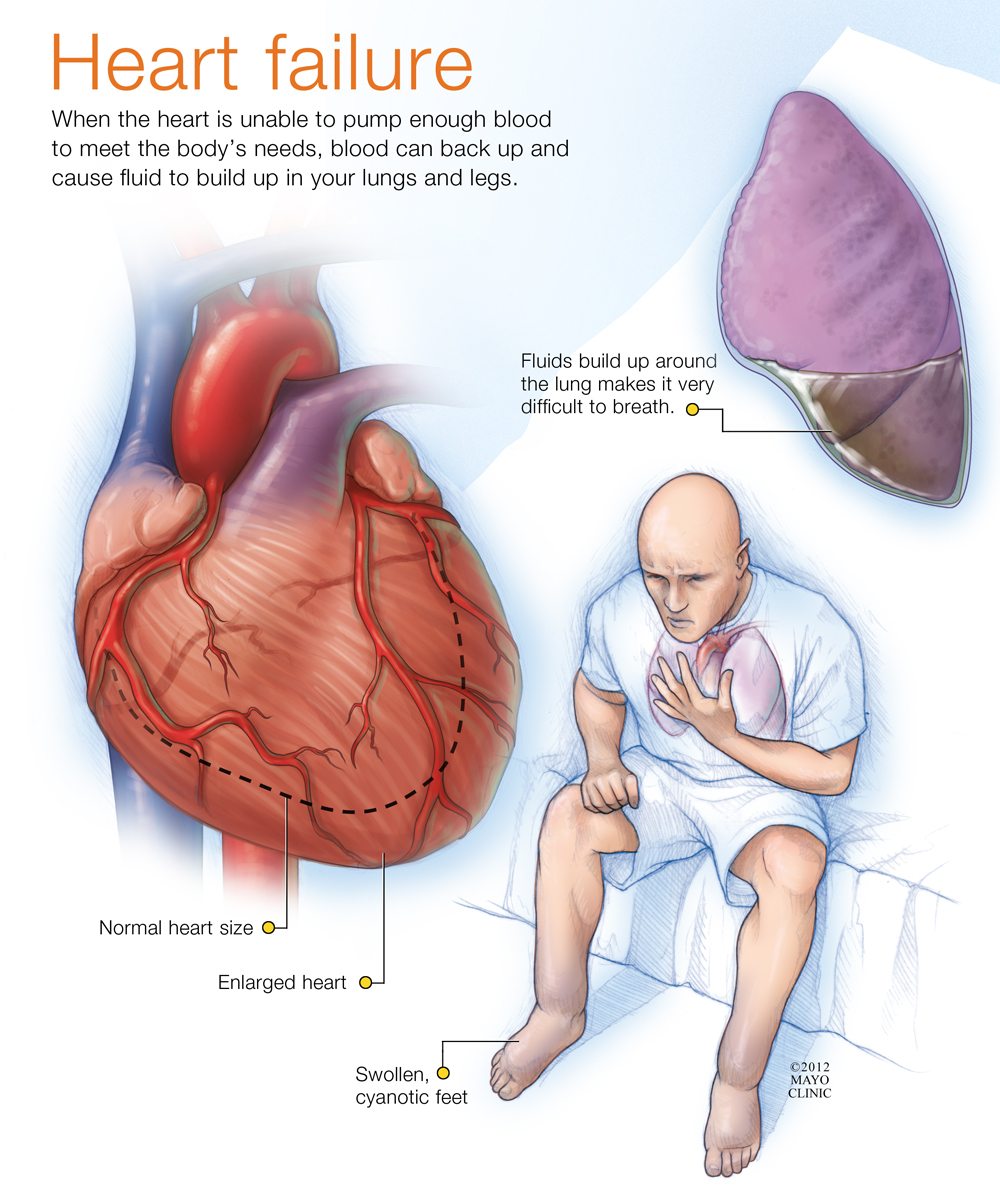 The term "heart failure" makes it sound like the heart is no longer working at all and there's nothing that can be done. Actually, heart failure means that the heart isn't pumping as well as it should be.
Your body depends on the heart's pumping action to deliver oxygen and nutrient-rich blood to the body's cells. When the cells are nourished properly, the body can function normally.
With heart failure, the weakened heart can't supply the cells with enough blood. This results in fatigue and shortness of breath and some people have coughing. Everyday activities such as walking, climbing stairs or carrying groceries can become very difficult.
Heart failure is a term used to describe a heart that cannot keep up with it's workload. The body may not get the oxygen it needs.
Heart failure is a serious condition, and usually there's no cure. But many people with heart failure lead a full, enjoyable life when the condition is managed with heart failure medications and healthy lifestyle changes. It's also helpful to have the support of family and friends who understand your condition.
How the normal heart works
The normal healthy heart is a strong, muscular pump a little larger than a fist. It pumps blood continuously through the circulatory system.
The heart has four chambers, two on the right and two on the left:
Two upper chambers called atria (one is an atrium)
Two lower chambers called ventricles
The right atria takes in oxygen-depleted blood from the rest of the body and sends it back out to the lungs through the right ventricle where the blood becomes oxygenated.
Oxygen-rich blood travels from the lungs to the left atrium, then on to the left ventricle, which pumps it to the rest of the body.
The heart pumps blood to the lungs and to all the body's tissues by a sequence of highly organized contractions of the four chambers. For the heart to function properly, the four chambers must beat in an organized way.
What is heart failure?
Heart failure is a chronic, progressive condition in which the heart muscle is unable to pump enough blood through to meet the body's needs for blood and oxygen. Basically, the heart can't keep up with its workload.
At first the heart tries to make up for this by:
Enlarging. When your heart chamber enlarges, it stretches more and can contract more strongly, so it pumps more blood. With an enlarged heart, your body starts to retain fluid, your lungs get congested with fluid and your heart begins to beat irregularly.
Developing more muscle mass. The increase in muscle mass occurs because the contracting cells of the heart get bigger. This lets the heart pump more strongly, at least initially.
Pumping faster. This helps to increase the heart's output.
The body also tries to compensate in other ways:
The blood vessels narrow to keep blood pressure up, trying to make up for the heart's loss of power.
The body diverts blood away from less important tissues and organs (like the kidneys), the heart and brain.
These temporary measures mask the problem of heart failure, but they don't solve it. Heart failure continues and worsens until these substitute processes no longer work.
Eventually the heart and body just can't keep up, and the person experiences the fatigue, breathing problems or other symptoms that usually prompt a trip to the doctor.
The body's compensation mechanisms help explain why some people may not become aware of their condition until years after their heart begins its decline. (It's also a good reason to have a regular checkup with your doctor.)
Heart failure can involve the heart's left side, right side or both sides. However, it usually affects the left side first.
Who Develops Heart Failure (HF) and Why?
Heart failure is more likely to happen as we age, but anyone can develop heart failure, which is a serious, long-term (chronic) condition. But you can live a full and active life with the right medical treatment and the attention you pay to your lifestyle.
Understand the causes and conditions leading to HF.
Most people who develop heart failure have (or had) another heart condition first. The most common conditions that can lead to heart failure are coronary artery disease, high blood pressure and previous heart attack. If you've been diagnosed with one of these conditions, it's critical that you manage it carefully to help prevent the onset of heart failure.
Warning Signs of Heart Failure:
Shortness of breath
Chronic coughing or wheezing
Build-up or fluid
Fatigue or feeling lightheaded
Nausea or lack of appetite
Confusion or impaired thinking
High heart rate
to learn about the symptoms of heart failure, please visit: http://www.heart.org/HEARTORG/Conditions/HeartFailure/WarningSignsforHeartFailure/Warning-Signs-of-Heart-Failure_UCM_002045_Article.jsp#.Vq-FfBgrK2x
First Steps For Getting Diagnosed
It's always important to have regular check-ups even if you're not noticing any particular symptoms. If you do notice any of the potential signs of heart failure (HF), take action and talk to us.
Reporting Symptoms
It may be appropriate to begin testing for heart failure if you or a family member have any of the potential signs of heart failure, such as:
Shortness of breath
Persistent coughing or wheezing
Buildup of excess fluid in body tissues (edema)
Unusual fatigue
Lack of appetite or nausea
Impaired thinking
Increased heart rate
Next Steps
After an examination, our doctors may decide that tests and procedures should be ordered  to help determine the nature of the possible problem with the heart's larger lower chambers, the ventricles, which may be responsible for symptoms such as the ones listed above. These chambers may have lost some of their power to pump blood to the body or relax and fill with blood.
Interpreting the Results
The doctor uses your test results to determine whether you have heart failure, the degree of severity, including the type of heart failure as well as the class of heart failure, you may be dealing with, and what treatments would be most effective. Learn about some of the common tests for heart failure.
For more information on heart failure, treatment options, and medications, schedule an appointment with Dr. Valentino today.